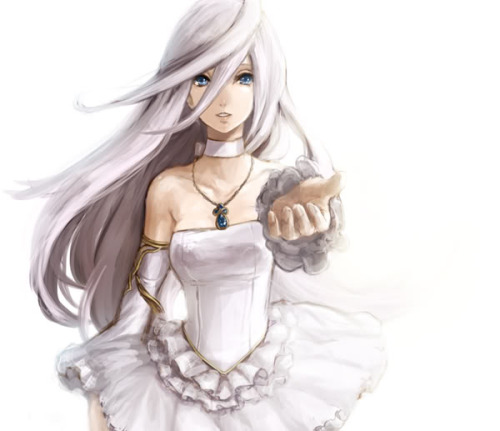 Nukumori Dovahkiin
Section 1: Basic Information
Last Name, First Name:
Dovahkiin, Nukumori
Gender:
Female
Age:
25
Birthday:
December 21st
Height:
5' 7"
Weight:
126 lbs
Specializations:
Ninjutsu, Fuuinjutsu, Ijutsu, Taijutsu
Elemental Affinity:
Raiton, Fuuton, Katon
Rank:
Genin
Village:
Morigakure
Section 2: Personality
Personality:
Nukumori is very kind and always looks after others. At any turn, she is ready and willing to aid those in need or need a shoulder. She is also extremely protective of those she loves. Especially her lover, the Tsurikage. She will become ruthless and violent if anyone touches him in a bad way. Her core is selflessness. Her life revolves around helping others before helping others. Even if it means putting a hold on her marriage with Yonoo-sama, she'll do whatever it takes to be available for everyone around her.
Likes:
Nukumori enjoys playing with children and telling stories. One of her goals is to have three children with her hopefully-husband-some-day lover, Yonoowari. She also loves to sing and garden; because of this, the village prospers and the surrounding forest seems to love her fondly. Her greatest enjoyment though is spending all of her days with Yonoo-sama. She loves him with a passion that is nigh unbreakable and is her truly greatest thing in life.
Dislikes/Fears:
However, she hates people that look down on others because of their social status, much like Yonoowari. It makes her blood boil to a rather extreme point. She also doesn't like when people are not thankful for the things they already have in their lives. She believes that these kinds of people are truly the most blind and immature beings in the world and need to be taught that there is more to life than merely the physical realm. Most of all her fears, she fears losing Yonoowari. If she lost him, her world would fall apart and she would not be willing to continue living knowing she could no longer see his smile.
Motivation:
Her motivations are very simplistic and to-the-point. First, she has always desired to marry Yonoowari when she is of age and when she believes she is of the acceptable rank to wed him. Second, for the majority of her life, she never wanted to fight and always was the crybaby-pacifist - hence why she is a genin at 25 years old - so in order for her to marry Yonoowari, she had to prove herself and in order to do that she had to fight and train. Yonoowari helped all of the time with that aspect. Lastly, she wants to live to be old and live in peace in her village with Yonoowari, so that motivates her to fight and try to bring peace to the ninja world with as little bloodshed as possible.
Section 3: Clan Information
Bloodline:
Way of the Dov
Bloodline Ability:
The Dovahkiin have the ability to focus chakra into their vocal cords and project jutsu into a vocalization. All members have ninjutsu primary or secondary and have the elements Fuuton, Katon, and Raiton. All stages of the Way of the Dov are passive.
Stage One: Every member of the Dovahkiin has the capability of using shouts and also can change any jutsu into shout form. Specifications will be made upon registering the techniques.
Stage Two: The user must be Special Jounin rank to obtain this stage. The dragon Th'um, or Voice, spreads throughout the user's body, causing it to become more like their dragonkind brethren. The user develops a dragon-like mutation in their body. (User may choose their mutation from the mutation list)
Stage Three: Dovahkiin of S rank can obtain this final stage. In this stage, the Dovahkiin is said to reach their maximum potential. The user's blood transforms into the blood of a dragon, and it begins pulsing through the body at an increased rate. The dragon's blood fills every muscle, and makes them expand. On the outside, it simply looks like the user's muscles increase greatly in size, and muscle tone is much more defined. This causes strength to increase by 60%. The user also further becomes more like a dragon by mutating one more time. (The user can choose another mutation from the Dovahkiin mutation list.)
Each stage stacks, and is permanent.
History of Clan:
The clan of the Dovakiin, or the Dragonborn, began long ago with a man named Kriger Dovahkiin. He had been raised by dragons, and taught their language. They taught him how to use chakra to transform jutsu into Shouts using his Voice, or Thu'um. They also blessed him with parts of their souls and gave him dragonlike features such as dragon skin, and dragonlike bones. They also taught him how to bless others with these gifts. He left the dragons when he was 70 years old, and created a clan named after his last name, Dovahkiin, which indeed translated to Dragonborn. His new clan prospered for many years after his death, and they lived in harmony with the dragons. However, after many years, the dragons betrayed them, and began wiping out he Dovahkiin with the belief that the ability to Shout should only be reserved for dragons and dragons only. The Dovahkiin were mostly destroyed until one man, the great grandson of Kriger, created a shout called Dragonrend. He used it to annihilate the dragons whom betrayed his people. Unfortunately, even by his efforts, he was slain by the few remaining dragons not yet murdered by the man driven by revenge. The few remaining dragons scattered across the land. Many centuries passed, and a man named Skar discovered books in a library written by the last Dragonborn. The books were labeled as fiction, but the new Dovahkiin knew they weren't; they knew that this was their actual ancestry. They revived the long forgotten clan, and established it again throughout the new world. They sent out messages inviting any remaining Dovahkiin to join them where they gathered.
Location of Clan:
Scattered
Section 4: Background
Character History:
When Nukumori was born on December 21st, she was immediately arranged to marry Yonoowari, the successor to the Dovahkiin lineage and Kage lineage. There was no decision for her to make - duh considering she was a newborn baby at the time of the decision -, but later on, she found that she couldn't see her life turning out any other way. As a young child, she listened to Yonoowari sing and tell stories of the family heritage whenever she could and she often joined in harmoniously with him and the melodious tunes. She often enough, when not with Yonoo-sama, played with the other children in the village and she also constantly played with the roots of the large trees of the forest, who even the trees themselves grew fond of the girl. As she got older, Yonoowari taught her to do daily chores such as cleaning, cooking, and running to the market for things such as supplies - crafting material and ninja tools like kunai and shuriken - and food. She quickly grew fond of Yonoowari because of all the time they spent together and eventually she fell in love with him as she flew into her teenage years. Her teenage years were very important to her, as this was the time that her and Yonoo-sama grew very close to each other. There wasn't a day they didn't spend with each other, and every one of those days was a fond memory to her. This was also the time when Yonoo-sama began teaching her to fight and hold herself high as an honorary Dovahkiin woman, which sometimes was a major chore since she hated fighting, where most times she got to the point of bursting into tears because of Yonoo-sama's firm stature on the subject. When she turned eighteen, her and Yonoo-sama began officially dating, and what a celebration of youth and love it was. Nothing but happiness overcame the girl that day. Every day after that, Yonoo-sama often carried her around the village on his back, and just as often, she found that she could never tear herself away from him, not even when it was time for bed. When she reached the current age of 25, she knew that if she wanted to marry Yonoo-sama, she'd have to prove her worth to him, so she became determined to rise through the ranks and marry to the man she loves so dearly. She trains constantly for this purpose, and she also constantly coerces Yonoo-sama into training her every day so that she may be strong enough to be on equal footing with him some day. This is where her story continues, and who knows what will happen to her in the coming future. Will she in fact some day be able to marry Yonoowari Dovahkiin? Only time can tell that, and only events that transpire can shape the course of her ultimate goal.
RP Sample:
The day was young. The sun was showing neatly through the trees and the weather was just the right temperature to soothe the body and the soul. I walked around the village, taking in my surroundings before the villagers begin their average day. The entire village was silent, through and through. It was peaceful. No war; no conflict; nothing in the village in that sense has changed and I couldn't help but smile knowing that fact.
Every day, though, I feel as though something ominous is stirring in the air, the feeling so thick I could cut through it with a knife.
I shook my head and placed the thought in the back of my unconscious mind; I wouldn't let anything ruin my day today. Nothing. After about an hour of walking through the village, I eventually came to the hollow trunk that led to Yonoo-sama's quarters. I looked up at the large sphere at the top and wondered if he had woken up yet this morning. I then suddenly smelled a wonderful aroma and heard a gentle, warming voice coming from behind me. "Hello, darling. Up so early, I see. Could no longer get anymore sleep?" It was Yonoo-sama. He was awake after all.
I'm not sure why I'm surprised. He's usually the one that is waking me up in the morning.
He wrapped his arms around my waist and rested his chin on my left shoulder and of course I blushed. "It's not that. I just wanted to wake up early so I can see you and start the day early with a good-morning kiss." I proceeded to then reach up on the tips of my toes and kiss him gently on the lips. "Good-morning, Yonoowari darling." I smiled and he smiled back. "Shall we go to the market? They are about to open. I hear there are some discounts to salvage there." I nodded and he took my hand as he led the way toward the market. What a wonderful way to start the day.