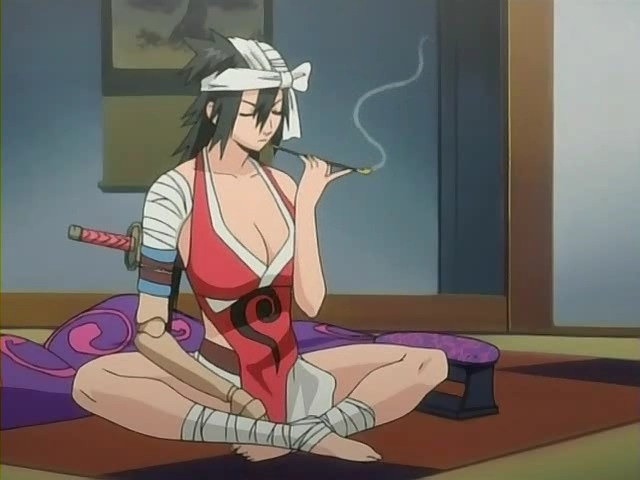 Akaru
Section 1: Basic Information
Last Name, First Name:
Mitasuki, Akaru
Gender:
Female
Age:
29
Birthday:
June 13
Height:
5'8
Weight:
156 pounds
Specializations:
Ninjutsu, Taijutsu, Puppetry, Fuuinjutsu
Elemental Affinity:
Wind, Earth, Fire
Rank:
Jounin
Village:
Chikigakure
Section 2: Personality
Personality:
Short tempered and fiery, Akaru is a like a bomb, and one should never underestimate when she could go off. She has a snappy mouth, a keen eye, and a tendency to use her fists first instead of her mind. However, she is partial to children and hates to see them mistreated or upset.
She doesn't easily trust people, but when she does, said person has a great ally. As a seasoned veteran, she'll protect you no matter what is costs; even though she really wouldn't like to lose another limb. Toward her enemies, she is fury and pain incarnate, unafraid to open a can of whoop-@ss on some fools.
Likes:
I like kids, mostly for the innocence they represent; the innocence I never really had. Sake is my best friend, especially on bad days or even good days. Honey is another thing that I really like, whether it be in food or drink; honey makes even dirt taste good. Smoking my pipe is given, why else would I have it? And fighting is of course another given; just look at me. Do I look like I don't like to kick some @ss?
Dislikes/Fears:
I greatly fear losing another limb; I mean the void left my losing my right arm was enough. If I lose another limb I'm gonna pay someone to give me a dignified death. I refuse to simply sit around and rot away. I hate bitter food or drink, if it tastes bad why should you eat it? I despise oversleeping, especially since I'm a rather punctual person for being so horrible. I also hate being bothered unnecessarily. If you haven't got a reason to mess with me other than to just be annoying, I'm gonna beat some sense in you. No questions asked.
Motivation:
"To hunt down and kill the b@stard who cut off my arm!"
Section 3: Clan Information
Bloodline:
N/A
Bloodline Ability:
N/A
History of Clan:
N/A
Location of Clan:
N/A
Section 4: Background
Character History:
-Childhood-
Born to a very poor family living in the slums of Jokigakure, her entire life revolved around where her next meal would come from, that is until her parents gave her away to village. They could barely take care of themselves, much less the extra mouth, and with the village's many programs, they knew she would have a better future. At the young age of five, she was enrolled in the village's ninja academy, she herself scorned for her rough background and poor attire.
In one of these many incidents in where the other children made fun of her and the other orphans for their poor attire, something inside Akaru snapped. She charged her opponent, tackling them to the ground, not letting them up, and punching and hitting them till their blood decorated the ground and her tanned fists. She didn't stop until she was pulled away by the teacher, and she wasn't messed with ever again.
-Teenage Years-
Once she turned 12, she had already attained the rank of chunin, mostly through brunt force and her inner rage; something she had plenty of. She worked hard at her job, mostly being sent out to take care of developing gangs in the slums, and creating a name for herself; The Scorpion.
She became famous all around for her 'sting first and ask questions later' policy, and was feared by those who fought against her and her peers, mainly for her uncontrollable temper. It angered those who were above her in rank, that she was so haughty and wild, much like a wild animal. However, their anger towards her didn't prevent them from moving her up to Jounin rank in time.
Eventually, around the age of 25, gangs respected her, and she didn't have to really go out of her way to tell them to behave. She even had her arm tattooed with her street name, and wore her hair in a kakuzu fashion, wrapping cloth about it so it stuck out in a flashy manner. Even the clothes she wore became showy and revealing, showing off her many scars and making her stand out like a sore thumb. Soon her ego became quite inflated.
-Adult Years-
As most Jounin are, Akaru was sent out on various missions, some dangerous and some not so much, but all requiring her special set of skills. One day she was sent with a team of hand picked individuals to hunt down and capture a particularly threatening individual, unknown of course, but his actions had gotten the attention of her village.
Her team didn't take the matter too seriously, and when they fought said individual they were taught a severe lesson. The end result of that lesson being loss of life and limb; namely Akaru's entire right arm. The few left barely escaped with their lives to the nearest village, dragging the severely injured Akaru along.
There in the village the medics amputated Akaru's arm up to the mid-upper arm. There was no way to save even a few inches more due to the remainder of her arm being so shredded beyond recognition. When she returned to Jokigakure, she was honorably released from service and given a substantial retirement.
-A Depression, A Cure-
For several years she worked in utter depression and hatred for Jokigakure, suddenly becoming the leader of her own gang and running underground trading circles, earning money and becoming what she had fought to prevent; a slum lord, a murderer of the innocent, and a fighter against all that was right. However, when she awakened one morning and looked into the mirror thinking over what she had become, she vowed to change the monster in the mirror. She split her gang and all the money they had earned evenly, sending them their separate ways.
She herself entered the nearest puppet's shop and had the man inside fit her with an arm that had two long hidden blades along the top and the ability to shoot senbon from the palm. She trained for months with new arm, adjusting her chakra, fighting with the new weapon, and getting up and beyond her normal fighting capabilities. After proving to herself that she had become strong enough, she packed up and left Jokigakure, knowing there was no chance for her to become part of the shinobi force after her years as a slum lord.
She packed what little she had, and left through the gates of the village, never to be seen in Jokigakure again...
-Wanderer Reclaimed-
Akaru, now 28, wandered the wilds just outside of Chikigakure, at the foothills of the Anghor Mountains. She needed to stop in the village for supplies, and ended up staying longer than she had expected. After an particular incident where a man stole from a young child, and Akura kicking his face into the earth, she was recruited by the village.
However, she went through a long period of proving herself to the village; approximately three years to be exact. She finally achieved the rank of Jounin in the village, and left her reputation in the past with Jokigakure, and prays every morning that it doesn't come back to haunt her.
At the moment, she is focused on tracking down the man who severed her arm all those years ago. She doesn't remember his name, but she remembers the voice, and she'll do anything to get her revenge. This is her obsession, and will possibly someday, be the thing that ends her life.
RP Sample:
The earth was still this morning, the sun barely rising over the tops of the Anghor Mountains and bathing the tops of the trees golden. There, resting in the tops of the green branches was a flaming blot of red, white, and black. From the figure rose a tiny wisp of smoke, wrapping around the tree branches and disappearing into the sky.
Dark hair flickered as the winds picked up and waved the long skirt around tan legs into to a banner of pure white. She sighed and took another long draw on the pipe, holding in the smoke for a moment before allowing it to escape her lips in one long, upwards rising, stream. Dark eyes flickered over the landscape as she put out the pipe and tucked it away into a pouch at her side.
Then she stood on the branch, stretching her limbs like a cat before leaping into the forest's embrace once again. She reached out to the first branch to swing down on with a puppets arm, pale like pure snow, but riddled with scars and hidden compartments. Its hand held tight like a normal hand, but yet was nothing like it. Purely fed by chakra and the constant thoughts of this dark skinned kunoichi.
She finally landed on the ground, rolling along the ground first to help break her great momentum, and then coming up on her feet to trot along then slow to a walk. She adjusted herself as she walked, checking supplies and such as she watched smoke rise above the tree line in front of her. Before her, past the embrace of the forest, was the village of Chikigakure, less than three days walk.
She had just enough supplies left for the walk, but after that, she would be running on the endurance of her body. Akura Mitasuki had done this before, and would probably be fussed at by her next door neighbor, a medical ninja, for doing so again. She rolled her eyes at the thought of hearing her whiny high-pitched voice again.
Oh what a joyous life.